At Touchstone, We are just....
Different.
Nobody likes the cookie-cutter way most real estate companies handle listing a home. Thats why we are committed to be massively different.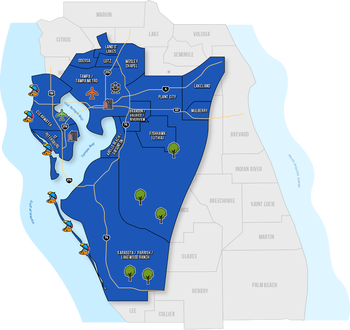 Tampa Bay's Most Progressive Real Estate Team
Proud to be your Local real estate Marketing experts.
WE LISTEN. WE KNOW MARKETING, and WE EXECUTE.
It's not hard to find a Real Estate Agent, lets face it, they're everywhere. But an experienced and passionate Marketer is not easy to find. Congrats, you found us, let's go to work.
Dedicated to an honest and friendly service
In any relationship communication is key and is the cornerstone on how we deliver a next level service. We are dedicated to providing you the attention you deserve. When you work with us, we are available at any time through text, phone or email. To us, you are more than just a client – you're a partner in the process.
Listing alerts
We help you find the perfect home by taking your preferred price, aesthetics, location, lifestyle, nearby amenities, etc ...
Home inspections
Here at The Touchstone Home Group, we understand how important it is to use the right home inspector.
Vendor network
We work with an extensive network of vendors and contractors that offer us special deals for home repairs, furnishing, painting, plumbing, electrical work
Expert advice
With over 25 years in Real Estate and Marketing, we've helped over 500 clients meet their home ownership goals.
Negotiating power
We will help you negotiate and secure the best possible price and terms for you ...
Property websites
Each and every one of our listings gets its own dedicated website using our listing tool.
Professional photos
It's absolutely essential that your home looks stunning, and attractive. We use professional photography for each and every listing.
Professional videos
We offer professional video tours and listings. This allows anyone to tour the property on demand, no matter where they are located.
Virtual tours
Our 3d virtual tours, allows anyone to tour your property on demand, and take as long as they want to take in your home.
Agent to Agent Video
Our exclusive Agent To Agent (A2A) marketing technique has been the key to our success. We use cutting edge technology to enhance communication about our listings. Stories need to be told, we are here to tell yours.
"I recently sold my house and Thom help me get it done quickly and efficiently. Thom and the Tiller team made sure I knew what was happening and understood everything during every part of the home selling process. All the paperwork was done electronically until closing which we opted to sign in perso
…
n. I highly recommend Thom and his team to buy or sell a home he actually cares! 10 out of 10 recommend!"
"Tiller team is beyond excellent. They worked tirelessly to market and sell my home. The interruptions I faced were unbelievable yet they continued to inform and encourage me. The team went far beyond what I was asking of them . Wish there was a better adjective than outstanding."
"This is the second home sale transaction we have completed with Thom. He secured a fantastic deal for us within one day of listing our home. The process went smoothly and without any stress! I can't speak more highly of him! I highly recommend The Tillier Team and will absolutely work with him i
…
n the future for all of our real estate needs!"
"Thom and his team were wonderful to work with. They were attentive to all of our concerns and questions. We even had a shady deal that Thom personally investigated at great lengths to protect our interest. We were very pleased with Thom and his associate Melissa, who also went above and beyond."
"Thom went above & beyond to help our family. We had tight deadlines, busy schedules, and multiple family members involved in this transaction. Thom's professionalism was on full display as he is proactive, available, and a great communicator- which made the experience a pleasure. He is a expert in
…
every sense of the word & I highly recommend his services."
"Thom Tillier and his team are Fantastic! I interviewed a few agents to sell my home and instantly knew he was the right person. His expertise and knowledge made me feel so confident. More important was his kindness and sense of calm. He made what I thought would be an emotional, hectic experience i
…
nto an orderly and worry free one. Thom and his team communicated regularly every step of the way. They delivered on their promise, and went beyond my expectations, Selling my home in 3 days. And, he is a marketing genius! I love how he marketed my home. Thom, I am forever grateful to you for working with me. I wish I had more homes for you To sell. I have recommended you to so many others and will continue to do so. Thank you for helping make this transition easy."
"Before moving to Michigan, I'd sold homes in three states. One in a good market, one in a bad market and one in an average market. No matter the market, it was always a stressful, frustrating experience and I never felt my realtor was actually working with me or for me. They listed the house and
…
disappeared. So, I was dreading having to sell my Michigan house. Then I met Thom Tillier and I stopped worrying. I could see from our first meeting that Thom was different. I would like to share with you what makes Thom different. He is honest. You can trust what he tells you about your home and the market. Any advice he gave me always turned out to be good advice. He understands houses. He sees what is special about your home and makes sure buyers see it too. He is helpful. Need something fixed before your house goes on the market? Thom knows who can get the job done. His list of Trusted Vendors is amazing. When Thom tells you he is there for you, to just let him know what you need, he really means it. I know, I took him up on it many times. He keeps you informed. Thom doesn't just list your home and disappear. You will hear from him on a regular basis and know that he is working with you and for you. He works for you. Before working with Thom, I felt that all the realtors that listed my houses for sale worked more for the buyers than for me. Not Thom. When the buyer of my home wanted $4,000 in concessions, Thom negotiated them down to $1,250. He is kind. I think kindness is seriously underrated, especially in business. It really does make a difference, especially when times are difficult. I was selling a home I loved and making a move I didn't want to make. Thom's kindness made that easier to bear. I don't have family in Michigan, but I've told all my friends that if they ever need a realtor, Thom is by far the best. I hope after reading this review, you will contact Thom. You'll be very glad you did!"
"Tom was amazing! He met with us and gave great feedback! He was able to give us great references for resources to fix up our house before we put it on the market! He sold our house in less than 48 hours above asking! He communicated with us through the entire process."
"Thom Tillier and his team were recommended to us by a good friend . We lived in our home for 40 years and selling was emotional. This was hands down , the most enjoyable experience. From start to finish Thom was professional, kind and the communication was top notch! Our home sold in 5 days! If you
…
want a stress free sale (or buying) call him. He works very hard for you! Sincerely, Mike & Mary Ann Kennedy"
Our Recent Sales
Hand Picked Fish Hawk Properties You Will Love.